Mind Map
… of all things I live to keep myself updated about, and associated contributor to those ideas,…
The blue boxes and their 1-hop neighbours are my core interests.
I tried finding my core interests in the Domain of Science charts. I eventually figured that most of my core interests lie in the field of computer science. The interests within physics, mathematics, and biology reflect the topics in computer science. Here's the result: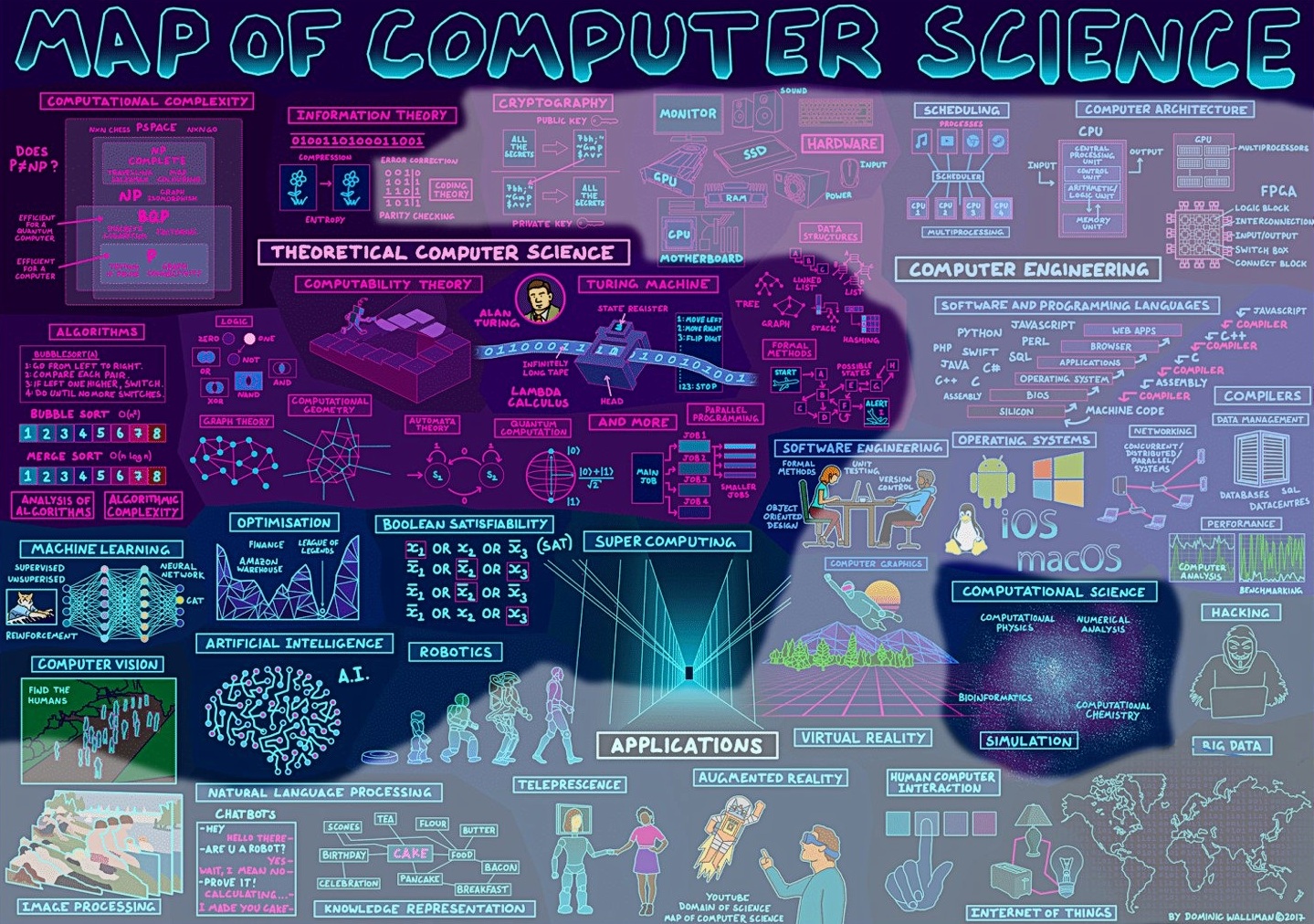 Links to articles I love
The following articles had major influence on my research scoping. The research each influenced is denoted by the tags: QCA, QiBAM, QuASeR, QEAIT, QKSA, QKSA+, YAQQ, ARA. The bold ones are the major background works for each project.
Postdoc research
read in 2023
read in 2022
Ph.D. research
read in 2021
read in 2020
read in 2019
read in 2018
M.Sc. research
read in 2017
read in 2016
Scientists with similar research interest
Some researchers I currently follow very closely for my research, as they have overlapping interests with me.
Hector Zenil - Experimental algorithmic information theory; Block decomposition method
Stephen Wolfram - Cellular automata types, Metamathematics
Ben Goertzel - Artificial general intelligence; probabilistic logic networks
Marcus Hutter - Universal artificial general intelligence; AIXI-tl
Markus Müller - Quantum foundations using Solomonoff induction
David Wolpert - Thermodynamics of Turing machines; No free lunch theorems
Cristian S. Calude - Algorithmic information theory; quantum computing
John Baez - Applied category theory
Noson Yanofsky - Category theory
Yoshihiro Maruyama - Applied category Theory
Favourite formulae/hypotheses
List of formulae or hypotheses that I find most impactful
Deutsch-Church-Turing principle
Cantor's Continuum hypothesis
Curry-Howard-Lambek correspondence
Mass-Energy-Information equivalence
Area law of entanglement
Choi-Jamiołkowski isomorphism
Thermodynamic Kolmogorov complexity
QKSA
AIXI
Solomonoff induction
Mandelbrot set
Barsley fern fractal
Glynn Julia set
Favourite scientists of all time
The 3 of my most favourite scientists: John von Neumann, John Archibald Wheeler, and Ray Solomonoff, in Salvador Dali art style (using the Android app Moment Cam).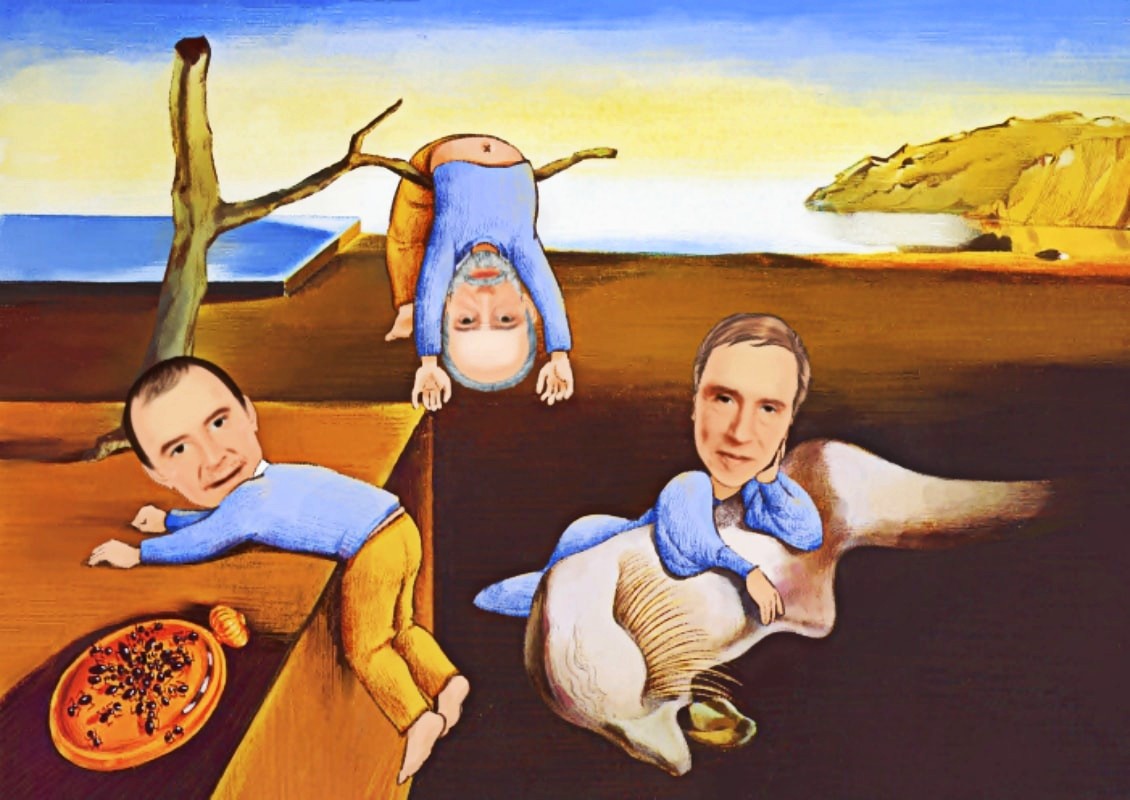 On the shoulder of giants
(Created Jul 23, 2019) (Updated Apr 10, 2022)
I have been deeply inspired by many giants in the scientific community. I hold them in the highest regard, for either their thoughts resonate well with mine or their propositions fuel my neural engines. While unification has been the holy grail for too long, I find clues lurking in the works of these great men.
…and among those who are still around
Roger Penrose (1931-) Quantum mind; Penrose tilings
Judea Pearl (1936-) causal model
Leonard Susskind (1940-) uncomplexity; string theory; loop quantum gravity
Charles Bennett (1943-) logical depth; pebbling game; quantum computation models
Paul Vitányi (1944-) algorithmic complexity
Gregory Chaitin (1947-) algorithmic complexity; omega number
Gerard 't Hooft (1947-) cellular automata quantum mechanics
Wojciech Zurek (1951-) algorithmic information theory; thermodynamics of information; quantum darwinism
Edward Witten (1951-) M-theory
Cristian S. Calude (1952-) algorithmic information theory; quantum computing
David Deutsch (1953-) Deutsch-Church-Turing principle; gate-model quantum computing; constructor theory
Karl J. Friston (1959-) free energy principle
Seth Lloyd (1960-) quantum computational limits
David Wolpert (1961-) thermodynamics of Turing machines; no free lunch theorems
John Baez (1961-) category theory
Hans Briegel (1962-) projective simulation; quantum reinforcement learning; measurement based quantum computing
Jürgen Schmidhuber (1963-) low complexity art; Gödel machines
Ben Goertzel (1966-) artificial general intelligence; probabilistic logic networks
Harry Buhrman (1966-) algorithmic information theory; quantum computing; computational biology
Marcus Hutter (1967-) universal artificial general intelligence; AIXI-tl
Scott Aaronson quantum complexity theory
Ken Thompson - Regular expressions; Unix; B
Eray Özkural artificial general intelligence
Alyssa Adams evolution; algorithmic complexity
Paul Davies
Sara Walker - algorithmic origins of life
Stefan Wolf
Chiara Marletto constructor theory
Juan Felipe Carrasquilla Álvarez neural network based quantum state tomography
Shaukat Ali
Giulio Chiribella
Gemma De las Cuevas
Tor Lattimore
Laurent Orseau
Shane Legg
Jens Eisert resource theory of uncomplexity
Ronald de Wolf
Scott Aaronson
Christof Adami
Mario Krenn
Roger Melko
Christopher A. Fuchs QBism
Lucas Lamata quantum reinforcement learning
Renato Renner quantum thought experiments
Bernhard Schölkopf
Vedran Dunjko quantum reinforcement learning
Bob Coecke applied category theory; categorical quantum mechanics
Hector Zenil experimental algorithmic information theory; Block decomposition method
Markus Müller quantum foundations using Solomonoff induction
Noson Yanofsky applied category theory
Yoshihiro Maruyama applied category Theory
Jack Copeland
Vijay Balasubramanian
Klaas Landsman
Dustin Lazarovici
… the list keeps growing as the horizon of my knowledge widens.
Blogs/Sites to follow
Researchers
Organizations
Courses I recommend